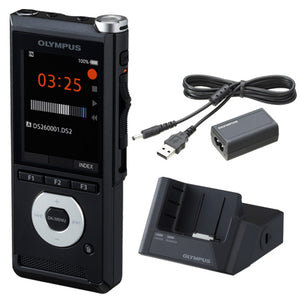 Olympus DS-2600CA Slideswitch Digital Voice Recorder with CR-21 Cradle and F-5AC Power Adapter
The Olympus DS-2600CA is an excellent option for users looking to add a CR21 Cradle and F-5AC Power Adapter for easy charging and simplified workflow.
With advanced features including a superior noise canceling system, a 4-position slide switch, and three different recording formats, the DS-2600 will increase dictation management efficiency. It is equipped with dual microphones to control the directionality, designed for superior conference recording. A triple-layer studio quality filter ensures accurate voice capture while reducing unwanted sounds such as breath and wind vibrations. This provides superior accuracy for high-quality recordings, enhancing software transcription ability.
Built with an intuitive design and equipped with a 4-position slide switch, the DS-2600 is designed to be productive and dependable, for individuals working in any environment. With a wide range of editing options for easy text creation to quickly modify your files, the DS-2600 will make turning recordings into notes as effortless as possible.
The CR-21 docking station (included in this bundle) for the DS‑2600 is the professional add‑on, which allows you to transfer your dictations via USB. The dedicated connector for your voice recorder spares the fragile micro-USB connector from being broken easily after several connections. The CR-21 will also charge your DS-2600 while connected to the PC.
The F-5AC-adapter (included in this bundle) allows charging professional dictation devices, which can be docked in one of the docking stations CR21, CR15, or CR10. This means the voice recorder can be charged faster than via a regular USB port at the PC and the PC does not need to be turned on for charging.
Included in this bundle:
(1) Olympus DS-2600 Slideswitch Digital Recorder
(1) Olympus CR-21 Docking Cradle
(1) Olympus F-5AC Power Adapter